I've just added another Christmas card to my collection - yay! This one is inspired by this fabulous image at
Curtain Call
:
I found the instructions for making the background from visiting
Benzi's
blog (check out her gorgeous card!) where she refers to
this tutorial
on Splitcoaststampers. I was really pleased with how easy it was to create, and I love the result. I scored the card to make planks before I started swooshing the inks - that way, the gaps stay clean. I made the wreath by stamping the pine boughs, then cutting them out and adhering them to a ring made from card. The berries are done with Liquid Pearls.
I've used the colour scheme from
Dynamic Duos
:
ETA: In between starting and finishing this post, a friend called, a bottle of wine was opened, and Dynamic Duos closed. C'est la vie!
The challenge at
CAS-ual Fridays
is embossing:
CFC119: Use dry or heat embossing on your Clean And Simple project.
And the challenge at Simon Says Wednesday challenge is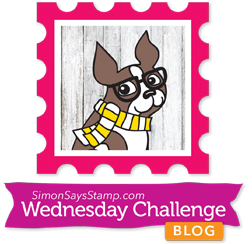 Stamp: Stampendous Retro Ornament Set
Ribbon: stash
Sentiment bar: stash