This is my second post today. Click
here
for 12 Tags of 2014.
More stencil homework from the Online Stencilled class. So the several panels of stencilled dots that I made with the clear embossing paste have now dried. On one of them I overlaid the chevron stencil and sponged over the top with Canteloupe, Morocco, Rhubarb Stalk and Sweet Plum Memento inks and buffed the spare ink off. I die cut the Penny Black Bashful die and coloured it with the same inks (plus Bamboo Leaves and Olive Grove), adhered that to a black panel, stamped the sentiment on a bit of trim, and tied some baker's twine around the panel.
I'm entering this into the Simon Says Monday Challenge,
Anything Goes with Twine or String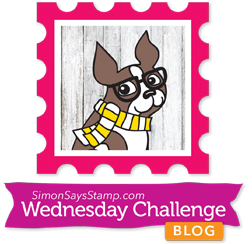 And also into this week's
Muse,
where the inspiration is provided by this gorgeous card from Marion:
Just in case you're wondering - the chevrons, the flower, the leaves, the sentiment, the angled panel, the gems (or clear stencilled dots in my case). They're all there, just stretched and re-coloured.