(I'm multi-tasking today, posting a few cards because I'm running out of time to get them all in!)
Sweet treat anyone?
Low
no calorie? Yup, thought so :) It's time for a new challenge at
Seize The Birthday
, and this time the toppings option is Sweet Treats. What does that bring to mind? Cake, ice cream, macarons, chocolate, all of the above?
I used an old Stampendous stamp, Tiers of Treats, and drew a matching scribbly border. The sentiment is from Ladybug Crafts, It's Only Words. I added some glossy accents to the strawberries and cherries, which doesn't show up on the photo above, but you can see better on this close-up.
If you don't have a sweet tooth, you can still play along, as long as it's a birthday project. Pop on over to the
Seize The birthday
blog to see the sweet treats that the rest of the Design Team have lined up for you, and join in the fun.
******************
Here's a leftovers card. When I was stamping my dragonfly for my 12 Tags of 2014, I stamped an extra one just in case. So I added some alcohol inks to the back, cut it out and added it to a base panel.
I had made the base panel way back in the Online Card Class Stencilled class and it's been sitting around since then. I had mixed gold paint in with the Polyfilla and pasted through the leaf cluster stencil, then sprayed gold glimmer mist over the panel. And there it sat, waiting patiently to be used. So this week I sponged some Distress Inks over the panel (the gold glimmer mist still shines through, although you can't see in this photo). I stapled some of the cutout acetate to the top of the card panel.
I'm entering this into
The Paper Players
- Happy Fall Y'all
and
Inspiration Emporium
- Fall Is In The Air
and
The Male Room
- Autumn/Fall
and
Mixed Media Mojo
- Fall/Autumn and Embossing Paste
(and a quick reminder for you that the
Mixed Media Card Challenge
for September is Autumn - check it out.)
*************************
My third card is for
Papertake Weekly
- Repeat Repeat (I've repeated the text stamp for my background)
and for
Simon Says Wednesday Challenge
- Create Your Own Background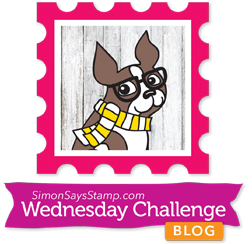 I used STAMPlorations
Vignette: Christmas Block
for the background and
Holiday Sketches: Christmas Bells
. And another reminder that the STAMPlorations blog hop is still on. Click
here
to hop.)