Today it's
Anita's
birthday so I'm popping in to wish her a "sweet" calorie-free birthday. It should really be croissants or pain-au-chocolat rather than donuts, but I don't have any stamps for them, so doughnuts it is. I'm sure they all go equally well with a glass of bubbly or red wine ;) Happy birthday, Anita!
I'm entering this into Curtain Call -
Donut Delight
And I don't think it's too much of a stretch to include it in Simon Says Monday Challenge -
A Piece of Paradise
- especially if there is a glass of bubbly to accompany it!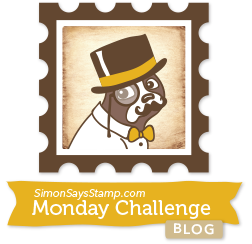 If you visit Anita regularly, you will know she is in the long process of renovating her home in France. I'm renovating some houses over at
STAMPlorations
tonight - here's a sneak peek:
While we're talking STAMPlorations, my doughnut card actually (loosely) fits the new monthly CASEplorations challenge of this card by Julie Ebersole. Why don't you play along? Get all the details
here
.