I got all excited when I saw the current challenge at
The Card Concept
, because I had some NBUS papers that were pretty much exactly the same design as the inspiration photo:
So out came the paper stash and I made this card. Back then, I would use buy a lot of patterned paper, but having bought it, couldn't summon up any inspiration. This card? Bleh. S'alright, I suppose, but not really doing it for me, doesn't make me happy.
BTW, have I shown you my ribbon stash? I was surprised not to find any polka dot pink and white grosgrain in there... The holes go all the way round, and each one is filled :)
But I digress. Back to the cards.
Now, this card makes me very happy! One layer, lots of stamping, lots of splattering, clean design, so this is the one I'm entering into The Card Concept.
And also in the
One Layer Simplicity Challenge
- Blossom.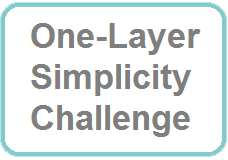 Prisoner in the Dock, explain to the jury why, having confessed to hoarding patterned paper and hardly ever using it, you buy online, premeditated, more patterned paper. And why you persisted with this foolishness by purchasing a 36 pack of 12x12 papers at the Port Sunlight show on Saturday.
Well, m'lud, the online purchase was 20% off with free p&p, and it was soooo pretty.... And the 36 pack of 12x12 was Tim Holtz papers, a bargain at half price :)
Guilty as charged.