Muse Christmas Visions
is up to its 14th challenge, and I don't think I've played along once yet. Something to do with my Christmas stamps usually staying in the attic until November. But I'd made a Christmas card for a magazine submission (which was accepted, yay!), the stamps were out, and Kimberly (who is the muse for the current challenge) asked me ever so nicely if I wanted to play along, and with such a fab card from her, who could resist??
Kimberly's card
I kept pretty much to the format, but inking in black rather than white, and sloshing Distress Inks onto the background. I added a bit of stencilling, some Glossy Accents to the star, the snowflake and the reindeer's garland, then added some white pen to the sentiment.
I'm also entering this into Simon Says Monday Challenge -
Make A Plan
. Not just about planners, it can be about getting a jump start on Christmas cards. Yup, that's me - looks like I'm planning my Christmas cards a bit better this year...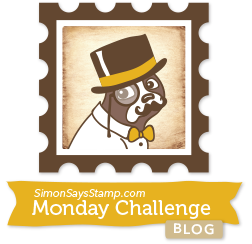 It's rather apt, actually, because we're having "Christmas" dinner tomorrow with DS2 who is over from Australia. Not quite Christmas in July, but close enough.