This card was inspired by two cards: the first one I saw was
this one
by Karen where she had inked washi tape and transferred the ink to the card, and I wanted to try the technique. Then I saw this
design team card
by Shery for the STAMPlorations sketch, using faux stitching, and the idea for a card was born.
I can't bring myself to use washi tape as a tool rather than a decoration - if I can use masking tape in its place, I will. Plus, I was hoping that the rougher texture of masking tape would give an impression of denim, and I was pleased with the result. So I "stamped" two rows of masking (re-inking the masking tape for the second pass) then stamped the bold stitching to represent a zip. I know zips have interlocking teeth, but just use your imagination. And if you look closely you'll see single stitching down one edge of the denim, and double stitching down the other edge. I stamped the Happy Birthday in matching ink, distressed the edges of the panel and tied some twine round it then mounted it onto the base card. I like the mix of denim and twine - a bit rugged. I may or may not have been influenced by the fact that I'm reading Pioneer Woman.
This card actually fits the current sketch at
STAMPlorations
- pop over and take a look, and I hope you'll join us.
I'm entering this into
Simon Says Wednesday Challenge
Anything Goes with Twine or String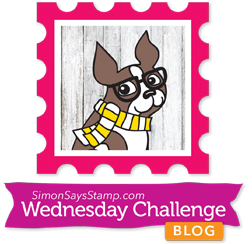 and
Seize The Birthday,
this time without the toppings.
Stamps used: (all STAMPlorations)
Patchwork Frenzy: Graphic Squares
(bold stitching)
Patchwork Frenzy: Graphic Pentagons
(fine stitching)
Vignette: Chevron and Arrows
(sentiment)